Celebrating 30 Years of Louisiana Tax Free Shopping for International Visitors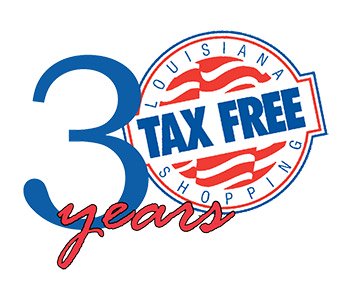 FOR INTERNATIONAL VISITORS
Unique Program to be recognized during event at
New Orleans' Louis Armstrong International Airpoirt
BATON ROUGE, La. – Louisiana Tax Free Shopping (LTFS) will celebrate 30 years of helping increase international visitation and spending in Louisiana through its program of refunding sales taxes paid by international visitors on tangible goods. In 1988, former Lt. Governor Paul Hardy led the way to enact legislation creating a first-of-its-kind program of "Tax Free Shopping" for international visitors to Louisiana. Created through Act 535 of the 1988 Regular Legislative Session, the program started in 1989 and the first sales tax refunds for international tourists were processed in November of that year making Louisiana the first state in the U.S. to offer sales tax refunds to international visitors. To mark the anniversary, the World Trade Center of New Orleans, Louis Armstrong International Airport, and Louisiana Tax Free Shopping will host an event at Louis Armstrong International Airport in the main lobby of Concourse C on Monday, September 30, at 10 a.m. featuring special guests former Lt. Governor Paul Hardy and current Lt. Governor Billy Nungesser.
"Through the creation of this great program, Louisiana is realizing the importance of international visitation. While no other state can offer a bounty of food, music, history, and culture that will Feed Your Soul like Louisiana can, for the last 30 years the Louisiana Tax Free program has been lagniappe for international visitors to our state, an extra incentive to make Louisiana their destination of choice. International visitors stay longer and spend more money. That is a win for the tourism industry and Louisiana as a whole," said Lt. Governor Billy Nungesser.
Louisiana Tax Free Shopping has contributed to an increase in tourism-related jobs, and increased international spending over the last three decades providing sales tax refunds for international visitor purchases at more than 900 retailers statewide. Under current Lt. Governor Billy Nungesser, international visitors to Louisiana spent more than $2 billion in 2018. Tax free shopping for international visitors directly returns $1.35 for every dollar refunded via other sales and taxes; helps locally-owned, small and medium-sized businesses compete with national chains; is a major decision maker for international travelers; and, sparks increased purchasing among visitors.
"Louisiana is a popular tourism destination for international visitors due in part to the innovative Louisiana Tax Free Shopping program," said Jessica Elliott, Executive Director of the Louisiana Retailers Association. "The ability to receive sales tax refunds encourages international visitors to shop at participating stores and make return trips to Louisiana to enjoy this unique opportunity. We believe that all retailers in the state should be members of LTFS!"
"For 30 years, Louisiana Tax Free Shopping has offered international visitors a wonderful opportunity to shop and support hundreds of merchants around the state," said LTFS Commission Chairman Steve Windham. "This program, with free membership to merchants, allows small business owners to enjoy the same benefits as big box or large retailers. Participants are listed in our guidebooks, on our website, and receive special promotional material that helps set them apart. Joining LTFS is a true win-win for everyone in Louisiana."